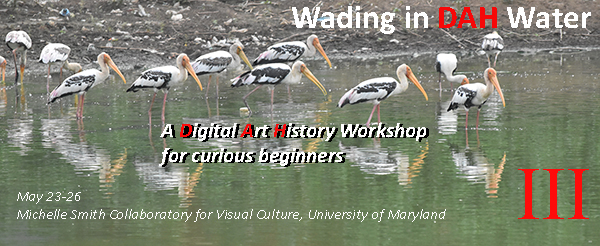 Wading in DAH (Digital Art History) Water:
A Workshop Week for Those Beginning and Curious
May 23-26, 2017
Michelle Smith Collaboratory for Visual Culture & Department of Art History and Archaeology
______________________________________________________________________________
What It Is: 4-Day Beginner-Level Workshops in Popular Digital Art History Methods
Where It Is: University of Maryland, College Park – Department of Art History, The Collaboratory (4213 Art/Sociology Building)
(locating Collaboratory in Art/Soc building & parking information)
Schedule:
Tuesday: Tiny Keynote (9-9:15); One Hour Introductions to Methods in DAH
overviews of different tools/methods (to be determined)
                 Wednesday: Project Kickoff (9-9:30) (share an idea for a project you want to do for the week; maybe pick up a partner or two); Workshops (all day [9-4]; concurrent)
             Thursday: Workshops (all day [9-4]; concurrent)
      Friday: Workshops (9-12; concurrent); Project Showcase and Wrap Up (2-3:30)
---
This workshop builds on the successful events of the previous two years. Plan to come out and do some wading!
The past few years have seen within the field of Art History a groundswell of interest in the Digital Humanities (DH for short), with a crop of well-funded institutes in recent summers signaling the arrival in earnest of Digital Art History, the term many are giving DH-centered Art History. These institutes are wonderful, but not all will have the opportunity to attend as a result of what can be a competitive application process. As well, many feel intimidated by the perceived cloistered expertise of DH-themed gatherings and are unsure just how they and their work can fit, and where they can start to gain some of the needed expertise.
That is where "Wading in DAH Water" comes in. Conceived as a gentle and easy introduction to some facets of Digital Art History, akin to slowly entering a swimming pool via the shallow section, this (nearly) week-long event covers some of the more popular areas of DAH (virtual modeling, augmented reality, online exhibitions, database-building and visualization) and is divided into two parts: Tuesday features showcases of different methods in DAH (to allow you to sample a bit of everything) and the remainder of the week offers free, drop-in-as-you-will workshops so that you can dive in a bit more and get hands on experience with a method or tool. Organized by the Michelle Smith Collaboratory for Visual Culture in the Department of Art History and Archaeology at the University of Maryland, these workshops will be run by Collaboratory staff, members of the DIG (graduate students in the Digital Innovation Group), and some old friends.
The week will kick off Tuesday (Monday is the last day of commencement!) with a brief orientation talk (15 minutes) followed by showcases of DAH methods throughout the day. Coffee and lunch breaks are assured (and with close access to a real coffee shop!) and will be generous enough in time that it is hoped participants can share what they have learned and ideas they have for possible projects, projects on which they might focus for the week's workshops. Wednesday morning, participants will have the opportunity to share their ideas, perhaps attracting team members who know they want to work on a certain approach (say, Omeka) but just don't have a specific project. Following this morning kickoff, participants are welcome to drop in to the workshop of their choice, all of which will run concurrently on Wednesday, Thursday and Friday (with coffee and lunch breaks, of course!). Friday afternoon we will wrap up with a project showcase, during which people are encouraged to show off their workshop creations and we all can celebrate a successful week of gentle learning.
Check back here at artinterp.org/digital-art-history-workshop-week-may-23-27-2017 for updated information. Access to a laptop will be a basic necessity (wi-fi access will be provided).
---
Likely Workshops (note: these workshops will run in parallel from Wednesday through Friday, although one is free to drop in from one to the other)
Omeka + Neatline: If one is interested in constructing online exhibitions, Omeka is the standard, particularly when one factors in its very powerful plugin, Neatline, which, like Omeka, is open-source and free, but is a University of Virginia product (as opposed to Omeka, which originates from George Mason University). This workshop will introduce participants to Omeka and its basic features, its conceptual organization, and best practices. As well Neatline will be covered extensively.
Goals – To become conversant with Omeka and Neatline and to build a working collection database and associated narratives.
A one-off workshop on how to install Omeka + Neatline on a hosting site will take place Monday afternoon.
SCALAR: An open-source e-publishing platform that is particular powerful for scholarly work featuring audio and video, Scalar is offered by the University of Southern California, which also regularly offers workshops. However, come learn and work hands-on from someone intimately familiar with the platform and its strengths. This workshop will introduce participants to Scalar, its conceptual organization, and best practices.
Goals – To become conversant with Scalar and to iterate a working publication. Bring your scholarly materials, even if, especially if, in bits and pieces!
Virtual modeling: The immense strides in computational power and a growing easy accessibility to powerful modeling tools have put the ability to architect virtually any space within easy reach of art historians, from undergraduates to faculty, and, especially, graduate students who are in the ideal position to learn new skills and methods. This workshop will introduce participants to Sketchup, a free and powerful modeling program, and guide them in the creation of useful models. As well, participants will learn about space-capturing and object-modeling apps that can transform research, publication and pedagogy.
Goals – To become familiar with Sketchup and its tools and best practices for this software platform; to construct a model of medium complexity that is of use to the participant; to become familiar with and conversant in 123dCatch and PhotoSynth and when these apps might have useful implications for the practice of art history.
Augmented Reality: Museums not only are experimenting with augmented reality, they are implementing rather sophisticated programs of audience engagement using this mode of digital intervention. Anyone with an interest in working in or with museums should consider this workshop. During the week we will consider AR, its potential and the implications of its use. Our focus primarily will be on using Aurasma and Augment to create AR interventions.
Goals – To become familiar with augmented reality through Aurasma and Augment; to conceive and build out a working sequence of AR interventions.
Databases: Underlying much of what expanded computational power has made possible is the database. Databases structure information in ways that make efficient a computer's ability to utilize that data in the production of among others, virtual models, maps, Omeka projects, and certain augmented reality projects. However, a database is only as good as the data it contains (standards for the metadata) and how that data is structured (tidy data). This workshop will explore existing metadata standards in the field of Art History, with particular focus on the Getty Vocabularies and Iconclass, so that participants can decide what to use and what will be most practical for their project. As well, the concept of Tidy Data will be explored when structuring the data, as a well-structured database allows for robust future use (visualizations). If time permits, workshop participants will explore visualizations of their database(s), a move into the deeper end of the pool!
Goals – To become familiar with the database as both concept and practice; best practices for constructing and using databases; using basic visualization tools with the data to produce one or two visualizations.